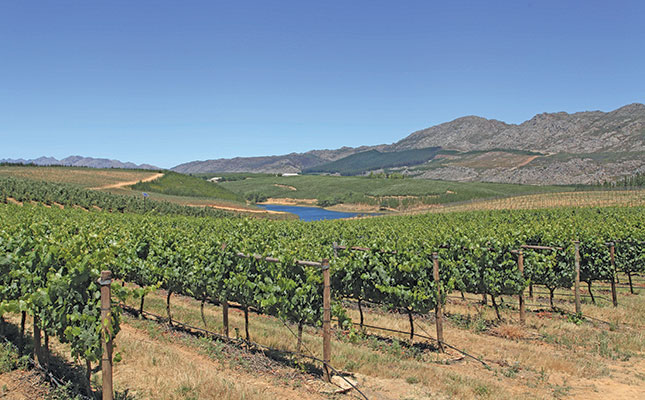 The vineyards of SA need to be protected from the climate
To combat the effects of climate change, South African winemakers will need to plan more carefully when establishing new vineyards, especially if they want them to achieve heritage status.
The Intergovernmental Panel on Climate Change has predicted that climate change could wipe out more than half of the world's vineyards by 2050.
At an Old Vine Project (OVP) workshop recently held near Stellenbosch, OVP co-founder Rosa Kruger said winemakers need to be much more strategic and consider many other variable when planting new vineyards. This was all the more relevant if they wanted their vines to last more than 35 years to be classified as heritage vines.
According to Kruger, the selection of rootstocks and varieties should be based on their ability to withstand climatic shocks, such as floods and droughts, as well as their resistance to disease. One of his suggestions was to choose varieties that ripened earlier in the season, before heat waves affected the acidity of the wines.
Also, much more attention needed to be paid to the design of vineyards to improve their water use efficiency and drainage.
For example, planting rows of vines in a northwest/southeast orientation could prevent sunburn caused by direct sunlight. If the slope dictated a north-south orientation of the rows, a spreading system would allow dappled rather than direct sunlight.
Kruger explained that if the grapes were exposed to direct sunlight, the temperature in the berries would rise during a heat wave and adversely affect the juice.
"As temperatures rise, we need to ensure that the grapes ripen naturally and are not 'cooked' ripe, as this will negatively impact the quality of the wine. Wine grapes need dappled, not direct sun," she said.
To ensure good drainage and prevent erosion and landslides, farmers either had to invest in expensive, expertly constructed drains or plant along the natural contours of the land.
"Using outlines is actually an old concept; Professor WJ Talbot published a book about it called Swartland and Sandveld in the late 1940s. He listed water conservation, reduced erosion and slower movement of water at through the ground as only some of the benefits of [contour farming]"said Kruger.
However, she opposes the use of terraces, as these leave the vineyards doubly exposed to sun, heat and drought, and disturb the natural layers of the soil.
The vines should be leaner and less vigorous, since vines with large leaves, long shoots and larger berries needed more water and were more susceptible to heat waves.
Vineyards could be planted at a higher elevation, as temperatures could be up to 1°C cooler for every 100m elevation gain.
Kruger said opportunities for this existed in mountainous areas such as Piketberg and Ceres in the Western Cape, but those areas were better known for fruit production, which was more lucrative than wine grapes. Fruit would therefore take priority over establishing vineyards, unless the farm does not have enough water to plant more fruit.
She added that slopes facing west and north were warmer than those facing south or east because they received more direct sunlight. Wind, however, was a primary factor, and if farmers planted vines near the sea, they had to consider the direction of cooling ocean breezes.
Biodiversity
Kruger feared farmers would move to new, previously unplanted areas that could be conservation areas or planted with natural fynbos.
"If we move away from warmer regions into new areas, the lands we leave behind should be reclaimed with native plants and trees," she said.
She added that soil biodiversity should be increased. "As the weather warms, it will become increasingly important to create refuge areas for animals, insects and other organisms, where they can find food, water and shelter. We also need to make sure our wetlands are healthy and not filled with strangers," Kruger said.
To achieve this, farmers could create biodiversity hotspots or corridors in their planted areas. This would help create a healthy population of diverse species which, in turn, would help control problematic species.
"Climate change will lead to changes in pest and disease cycles. Instead of making blanket pesticide applications, we should use our ecosystem services, as well as predatory and parasitic insects to our advantage," she advised.
At the same time, she recommended that farmers improve soil health and structure through the use of cover crops and mulches, for example.
"Nowadays, soil experts think bare soil is dead soil. Dead soil erodes more easily and cannot sufficiently support the vines during heat waves," she said.
Kruger added that a mix of annual cover crops, each providing their own benefits, was much better than a perennial monoculture. Nonetheless, she was not in favor of using cover crops year-round, as they competed with the vine for water and nutrients and could seriously affect vine growth and grape ripening. in summer.
In the spring, cover crops could be rolled flat to create a cover of plant material that served as a habitat for soil organisms and improved soil carbon content. This would improve the water holding capacity of the soil and control weeds.
Tools and Technology
Kruger also advised farmers to familiarize themselves with the latest technologies to determine which of them would help improve the climate resilience of their vineyards.
She said Cape Farm Mapper, a free online mapping application launched by the Western Cape Department of Agriculture in 2011, was a great tool for farm planning.
The solution provided information that covered everything from land topography, including contours, slopes and aspect; soil and geological information; and long-term climate data, such as evaporation, precipitation, cooling, and temperature.
While Kruger was largely against mechanization, she said it could help. "If it allows you to harvest very early in the morning to ensure that the grapes arrive at the cellar in cool temperatures, rather than doing so during the midday heat, then harvesting machines could be the answer."
Management
When it comes to managing old vines, the priority would be to maintain a good root system.
"The goal is not necessarily to have a deeper root system, but rather a more rooty root system in order to broaden the search for water and nutrients.
"Roots will thrive and function best in healthy soil with a high level of biodiversity," she said.
With pruning, the first step would be to "use your good wood". Kruger explained that the strongest canes had to be used to rebuild the vine. The next step would be to prune one or two buds, depending on the strength of the wearer, and never cut into old wood or arms (more than two years old) as this will cause deep wounds which could increase the risk of illness. .
In the case of bush vines, suckering or thinning must be carried out on three shoots per spur instead of two, provided that the vine is sufficiently vigorous. This would allow the vine to focus more energy on grape production.
Sucking should also be done to increase airflow through the canopy, which would later help reduce disease pressure.
Kruger pointed out that changes in vine management and improvements in fertilization programs have increased yields in many very old vineyards in South Africa. An example was the Jakkalsfontein wine farm in Malmesbury, where production at one of the old vineyards had improved significantly through correct pruning and other OVP management practices.
Finally, Kruger said old blocks of vines can also be planted with young ones, but this practice is capped at 15% at any time to qualify for heritage wine certification.
Email the Old Vine Project at [email protected].