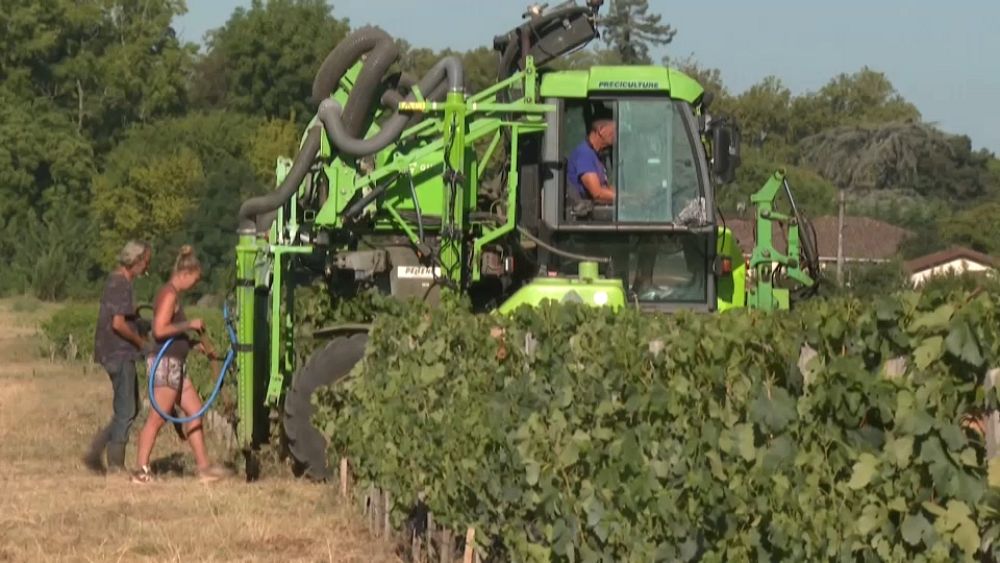 The French vineyard is suffering from a severe drought in certain regions
Drought is threatening this year's vintage in the Gironde around Bordeaux, one of France's most famous wine regions.
Weather experts say the country just had its driest July since 1959.
Although vines thrive in an arid climate, they can only withstand so much.
The French Rural Code prohibits irrigation from May 1 until harvest, however, some growers have obtained special permission to water their plants this year.
"The two people who are there each have a pipe with a metal tip at the end which allows the water to go directly to the root of the vine", explains Paulin Calvet, owner of Château Picque Caillou. "So that this water does not spread anywhere but remains in the heart of the vine, so that the water really descends the trunk to directly reach the roots."
The old vines have deeper roots, so it is the youngest, between three and eight years old, who require water, around five liters per stock.
Plants also have their own built-in natural defense mechanisms to deal with dry conditions and high temperatures.
"The yellow leaves show that the vine is defending itself and will stop feeding part of the leaves to resist this water stress", specifies Calvet.
Even if some winegrowers have obtained special authorization to irrigate their vines, they are not allowed to use mains water. It must come from a well.
The problem is that the wells are not as full as they usually are due to a lack of rainfall over the past few seasons.
It is a difficult year for the French vineyard.