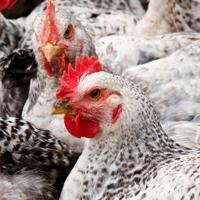 Poultry show ban continues as bird flu spreads | News
Highly pathogenic bird flu, a highly contagious, deadly disease similar to poultry flu, has been spreading across the state since February.
Later in April, New York saw the disease in eight domestic flocks – one commercial, one of captive wild birds and the rest being backyard flocks, according to Amy Barkley, animal husbandry specialist and rookie for the Southwest. New York Dairy, Livestock and Cornell Cooperative Extension Field Crop Program.
More than 10,000 birds have died or been euthanized, Barkley said.
"These positives started in the eastern region of the state, but moved west over the spring," she said. "Positive domestic birds have been confirmed in Dutchess, Fulton, Orleans, Monroe, Suffolk and Ulster counties. Positive wild birds have been identified in Cayuga, Seneca, Suffolk and Wayne counties.
She said the most recent cases in domestic flocks in New York were identified in the first week of April.
New York Agriculture Commissioner Richard Ball announced March 25 that the state is banning all live poultry shows and displays to stop the potential spread of avian flu. This meant that fairs, public hatching events, poultry shows and other similar events would not be allowed until further notice.
On April 14, the ban was expanded to include all poultry auctions and other events where people can buy, sell, barter or barter poultry. The reasoning behind this update was the same as the original advice in March: limit the gathering of poultry from different farms and farms to reduce the spread of disease.
"At this time, the ban does not include individual farms selling poultry, farm supply stores, chicks shipped into the state from hatcheries, poultry processors who operate under a 5A or USDA exemption or live bird markets," Barkley said.
Although both bans are in effect until further notice, the situation will be reassessed at the end of May, she added.
In the meantime, it is important that poultry owners remain on high alert for any unusual illnesses or deaths in their poultry flocks.
Symptoms including death without apparent cause; lack of energy or appetite; a sudden drop in egg production or an increase in the number of eggs with malformed shells, swelling of the head, comb, eyelids, wattles and hocks; purple discoloration of wattles, combs and legs; runny nose, coughing and sneezing; loss of coordination and diarrhea can all be symptoms of the virus.
Any suspected disease may be reported to the New York State Department of Agriculture and Markets at (518) 457-3502 or the United States Department of Agriculture at (866) 536-7593.
"We understand this is a difficult time, but together we will get through this," Barkley said. "If you are a herd owner or community member and have questions, please contact your local Cornell Cooperative Extension office for assistance."
Last week, a Colorado man reportedly tested positive for H5 avian influenza in the first confirmed case of a human infected with the disease in the United States.
The patient – an inmate at a state correctional facility – was involved in the slaughter of poultry suspected of having H5N1 avian flu, according to the Centers for Disease Control and Prevention.
The case was reported by the Colorado Department of Public Health and Environment and confirmed by the CDC.
Health officials have been tracking the health of more than 2,500 people potentially exposed to H5N1-infected birds, and the Colorado man is the only reported case in the United States. This is also the second human case associated with this specific group of H5 viruses, which are currently predominant.
In December 2021, a person in the UK became the first known confirmed case of H5N1 infection, according to the CDC. The person was also asymptomatic and had been in direct contact with infected birds.