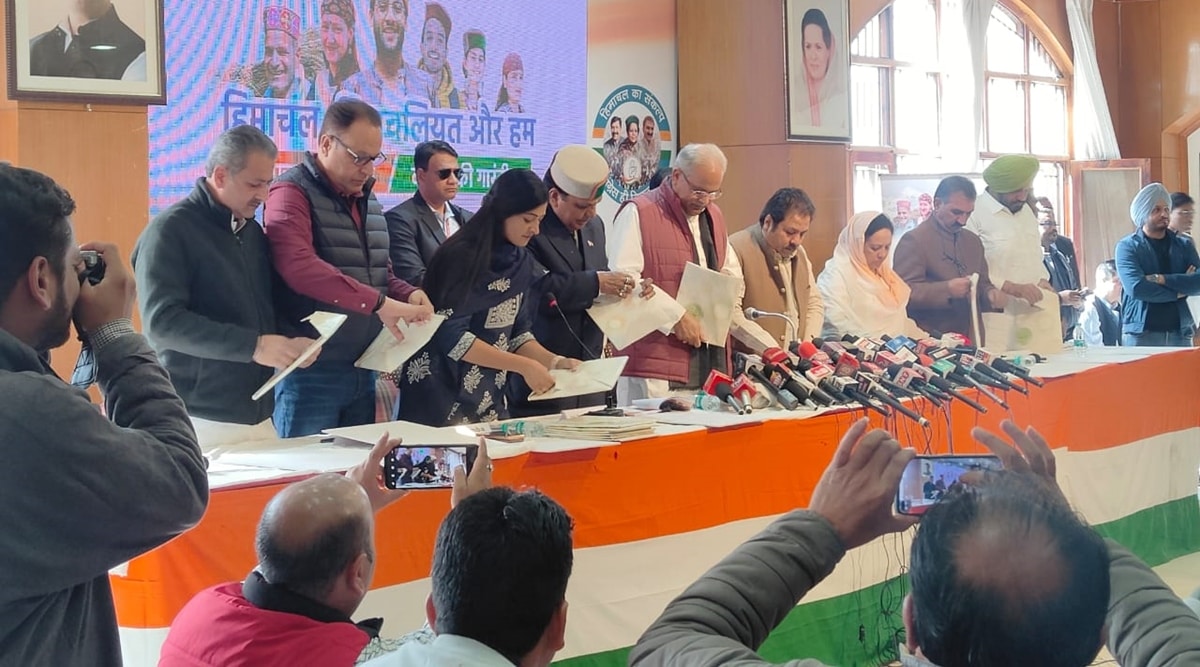 Pension plan, jobs and concessions for apple orchards in Congress manifesto ahead of Himachal elections
The old pension plan, jobs and reforms in the apple plantations are the main promises of the congressional manifesto for the upcoming polls. The party released the document in Shimla on Saturday. Titled "Himachal, Himachaliyat aur Hum", the manifesto highlights several policies the party plans to implement if it wins.
The manifesto is divided into three parts – Himachal, Himachaliyat and Hum. Under 'Himachal', the party promised a lakh of jobs at the first cabinet meeting and an overhaul of all policy decisions made by Jairam Thakur's government that have 'harmed employees'.
Congress has also promised to deliver 300 units of free electricity. The BJP is currently offering 125 units of free electricity to local consumers.
Congress has said it will pass a separate land acquisition law for roads and charge illegal landowners four times the cost of the land.
For farmers and apple orchard owners, a separate committee will be formed that will decide crop prices after consultation with stakeholders. Depending on the category and the recommendation of the committee, an MSP will be announced.
Congress said that if it won, the government would buy 10 kg of milk from dairy farmers and cow dung at Rs 2 per kg. A subsidy will be granted for the purchase of four cows per household.
The party will set up a "Smart Village" program to promote tourism. There will be a special subsidy for animal feed, the manifesto says.
MPs will be allocated a budget under "Dev Bhoomi Vikas Nidhi" to develop religious places from a tourism perspective and for infrastructure development, he added.
Under the development program, the government will construct 5,000 km of new roads over the next five years, the Congress party said.
"The Congress government will establish small, medium and large food processing industries throughout the state. A "special food park" will be set up in Solan for the processing of mushrooms, apples, tomatoes and vegetables," the manifesto states.
Under "Himachaliyat", the party promised doubling of the allowance given to temple priests, sponsorship of a pilgrimage of the elderly to any part of the country, promotion of the local language, among others.
Unde 'Hum' Congress said it will implement a program to ensure employment of 80% of young people in the private sector, allocate a fund of Rs 680 crore for start-ups and provide 5 lakhs of jobs . A social security pension will also be granted to people over the age of 75.
A relief fund for journalists will also be set up by Congress once elected to power.
The Bharatiya Janata Party is expected to launch its manifesto on Sunday. "The BJP has nothing to offer. When they had the chance, they didn't play. The outlook for the party is bleak and that is why Prime Minister Narendra Modi has to campaign so hard. The change of power is imminent," said Rajeev Shukla, AICC in charge of Himachal.