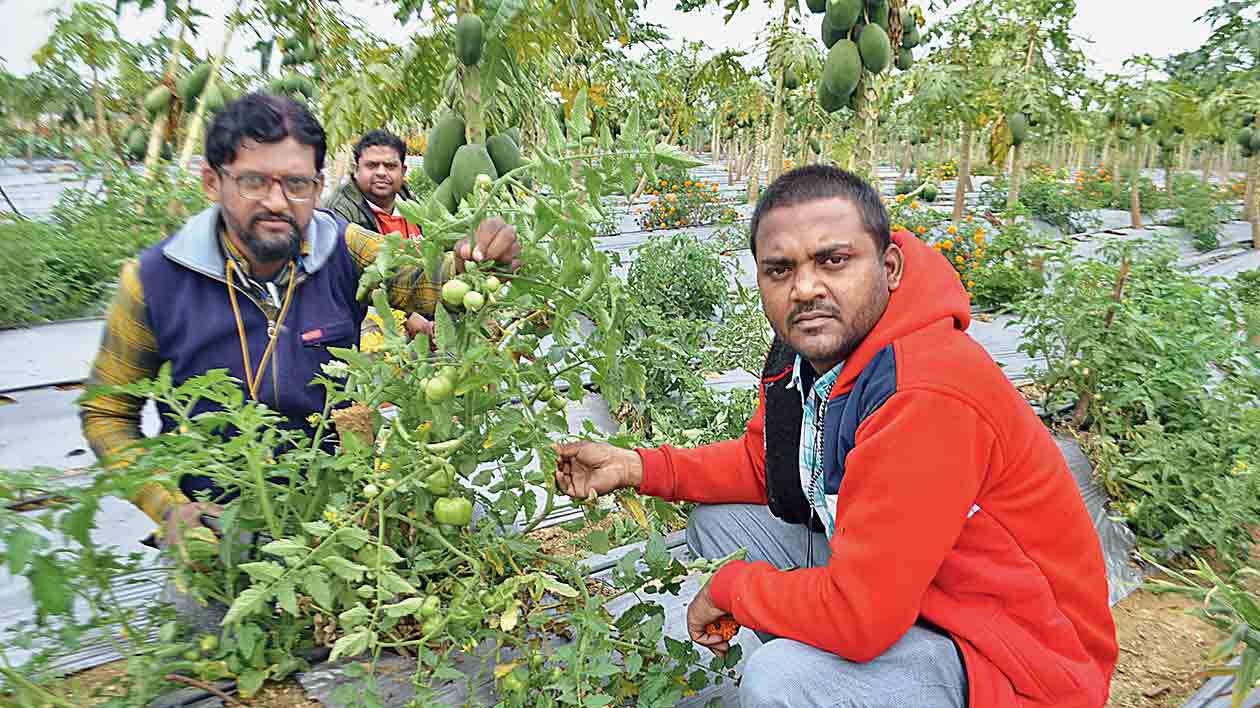 Organic farmer plans to raise orchards in abandoned coal landfill
A young man who started promoting organic farming in the Dhanbad coal belt now plans to grow orchards in abandoned coal dumps in the area.
"It is still in the planning stage as we need the authorization of the authorities," said Ravi Nishad, whose group has been promoting organic farming for more than five years in the region, adding that they came from approach certain senior officials of Bharat Coking Coal Limited (BCCL), a subsidiary of Coal India, for this purpose.
Nishad, along with his friends Ranjit Kumar and Amit Mishra, had formed RPA Farming and involved around 80 people who actively helped them promote organic farming on leased plots totaling around 150 acres in Dhanbad district. He hopes to grow fruit in abandoned charcoal dumps.
"In addition, around 300 people involved in various agricultural activities also make a living from our business," the 32-year-old said and added that he
want to promote the same in tribal villages, but it needed government patronage.
"The tribals hardly get bank loans against the land they own, but it would help increase their farm income," he replied when asked what kind of patronage they wanted and added that many of the center-sponsored programs, if properly implemented, would also help the tribes. Farmers.
This is indeed a problem and even Chief Minister Hemant Soren pointed this out and insisted on sanctioning bank loans to tribals at a meeting in Ranchi on Monday which was also attended by senior bank officials.
The abandoned charcoal dumps are like scars in the landscape and the vegetation would change the scenario with fruit trees planted there, Nishad said.
"Of course, we have to replace the topsoil in the plots where fruit trees can be successfully planted," he explained their plan, adding that this would only be possible if BCCL gave them the green light.
Likewise, some tribals are already working with them and many others are also interested in doing so, he added, adding that they have already trained around 2,000 farmers, including tribals, in organic farming. with the help of the IIT-ISM Foundation.
Tribal farmers could engage in organic farming more seriously if they got bank loans, he said, adding that it would certainly increase their income as organic produce attracts higher prices.
It all started when, in 2014, his mother died of lung diseases, allegedly caused by the pollution of the area, and he trained a Samarpan Seva Samiti who undertook a planting campaign to contain the pollution.
But soon they were advised to add income-generating activities to support their efforts and so he gave up his job in Delhi two years later, teamed up with friends to form RPA Farming and started organic farming on two acres of land in Bhuli in Dhanbad, he said. They cultivated, besides marigold, various fruits such as papaya, banana, cucumber, guava, pineapple and sugar cane.
They also make organic fertilizers with cow dung, chickpea flour, jaggery, vinegar and crop residues and use them, he added.
"One of our team members, Shubhankar Mishra, manages the social media platforms for marketing our products and buyers respond on their own," Nishad explained. "Many know us now and it will also help all others, including tribal farmers, who will join us in the future to market their produce and increase their income. "