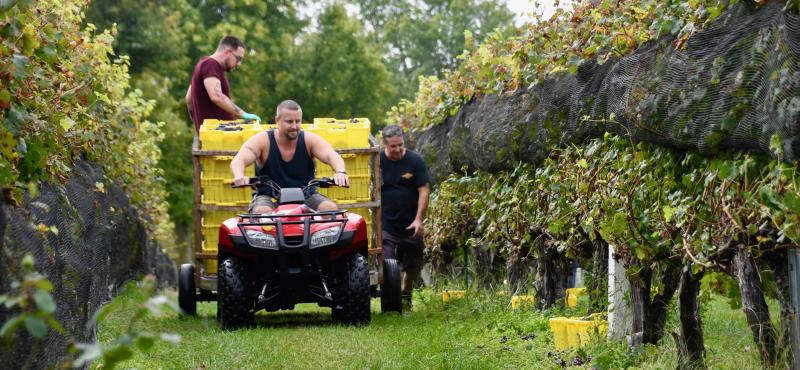 Nassau Valley Vineyards completes its 30th harvest
[ad_1]
Now is the time for Nassau Valley Vineyards winemaker Mike Reese to work his magic.
A team harvested Cabernet Sauvignon grapes on October 5, completing the 30th harvest season for the Lewes area vineyard.
Reese, who joined the wineries in 2008, said near ideal weather conditions – lots of heat and low humidity – combined for a bountiful harvest.
Besides the red wine grapes, the harvest included Chardonnay, Cabernet Franc and Merlot grapes, which, complemented by other regional fruits, will be used to create up to 15 wines. The winery has won over 200 awards.
It was international wine writer and jazz singer Peggy Raley-Ward who convinced her late father, Bob Raley, to turn part of the family farm into a cellar. However, at the time, Delaware law did not allow on-farm wineries. This did not deter Peggy, who drafted the legislation, lobbied members of the General Assembly, and passed a law in 1991.
In October 1993, she and her father started the winery.
Over the years, Nassau Valley Vineyards has grown into a destination spot with a wine shop, wine tastings, an art gallery, a Sunday farmer's market from mid-May to mid-October, and several options. rental for event venues specializing in weddings.
The Nassau Valley, nestled over 6 acres between Route 9 and Route 1 just outside of Lewes, is Delaware's first and largest winery.
Reese said the harvest was spared this year from the annual attack of fruit birds. "For some reason it's the best for 10 years," he said. "We did not suffer any bird damage, which resulted in a high quality and large harvest with an excellent yield. "
The wineries have a number of bird deterrents in place, including nets and bird sounds broadcast to scare off marauders.
Among those who helped with this year's harvest was Steve Burman, who recently moved to the area but retains ownership of 3 Steves Winery in Livermore, Calif.
For more information call 302-645-9463 or go to nassauvalley.com.
[ad_2]