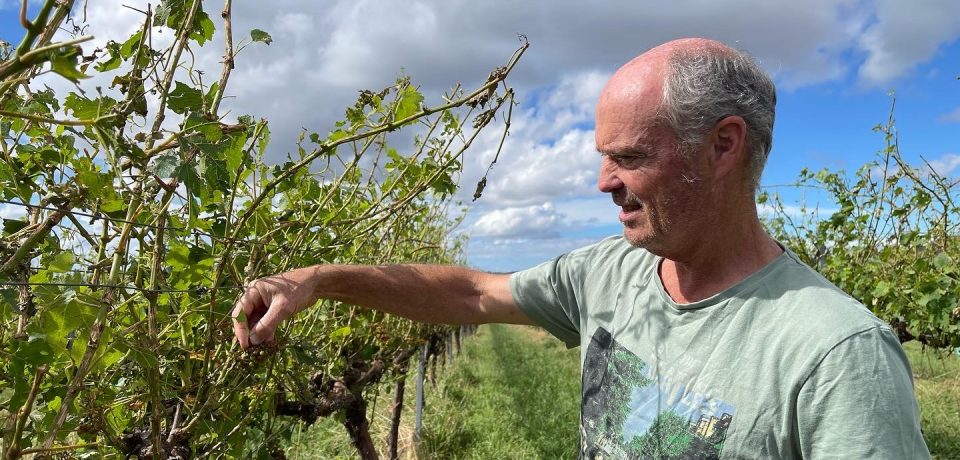 Murrumbateman Vineyards takes stock of damage after freak hailstorm
The hailstorm that hit Canberra last week (January 4) wreaked havoc on Belconnen and left thousands of homes without power. But as it left the suburbs and headed north, the storm continued to wreak havoc, which will have lasting effects on some vineyards in the Murrumbateman region.
Sarah Collingwood of Four Winds Vineyard says the storm only lasted five or 10 minutes, but the wind and hailstones hit with incredible force.

"[The storm] just defoliated the vineyard and bruised and damaged the fruit," she said. Regional Media.
"It's unbelievable that so much damage can be done in such a short time."
It appears more than 80% of the crop was damaged in the initial storm and Ms Collingwood explained that the loss of leaves means the vines will not be able to ripen the remaining fruit.
"It doesn't look good for a crop this year, unfortunately."
Poacher's Pantry, a William Bruce family business, winery, restaurant and smokehouse in Murrumbateman, was also badly damaged, and cleanup efforts were urgently needed. Staff worked all day to make the land accessible for an event that was to take place 24 hours after the storm hit.
"We had the restaurant cleaned up, the parking lot cleaned up, and then we had a local earthmoving company come in and clear the road, and we opened up the place," says Mr Bruce.
But there is not much to do for this year's harvest.
"There will be no fruit at all for 2022. And now it's all about tending the vines and helping them get a decent harvest next year."
Mr Bruce was particularly disappointed with the damage caused to six hectares of young vines which were due to produce their first vintage this year. While the more established vines will bounce back for next year, those green trunks will take a few more years to recover.
Wendy and Michael O'Dea of ​​Dionysus Winery were on the highway when the storm hit and returned to find their crop had been destroyed.
"We went back home [Wednesday] afternoon and went for a walk in the vineyard and found that we had lost every berry. A 100% loss. Looks like a cyclone passed through it,' Ms O'Dea said Regional Media.
In addition to damaging the grapes, the storm also destroyed many plants in their newly built sculpture garden.
It's a tough loss for local vineyards after the 2020 bushfires damaged grapes with the smell of smoke. Growers were forced to abandon their harvest that year and buy grapes from vineyards outside the smoke-affected area. It seems vineyards that lost their harvest this year will likely have to start over, although all were optimistic that the storm's narrow path left many vineyards in the region untouched. Some of their neighbors will always be looking to produce a bumper crop.
"The season was shaping up well and I think the vineyards harvesting grapes this year will be really good," Ms Collingwood says.
"All the rain has really recharged the ground…the area looks totally beautiful, but [it is] just a tough season at Four Winds.
Mr Bruce reminded Canberrans to support local wineries and businesses by buying local wine from bottle shops and restaurants and visiting local wineries.
Ms O'Dea was philosophical about the experience saying COVID-19 had "given perspective", and despite their losses they still felt very lucky. With the help of friends and family, she and her husband headed to the vineyards to clean up the mess and look to the future.
"That's the biggest priority, just getting out in the vineyard and taking care of it for next year."
Original article published by Lucy Ridge on Riotact.