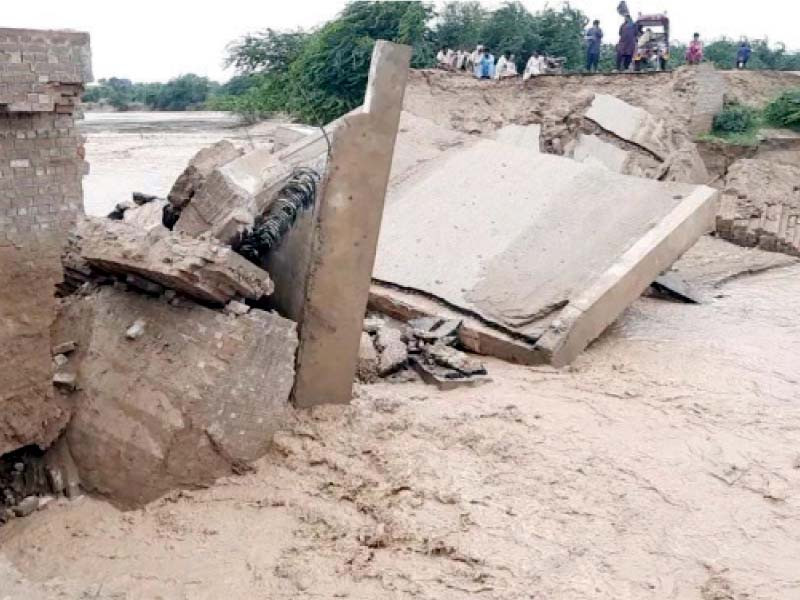 Monsoon floods devastate cash crops
PESHAWAR:

The monsoon season has been the true epitome of when it rains, it rains for farmers in Khyber Pakhtunkhwa (KP) who have been devastated by the destruction the torrential rain induced floods have caused to crops.
Many who have spent months preparing their fields and sowing seeds could only watch in horror as the muddy waters washed away their hard work and source of income in minutes. Javed Khan, 45, who belongs to Tank district in KP, is among hundreds of farmers in the province who have lost their harvest of maize and other vegetables. "I lost all my crops which were the only source of income for my family," Javed lamented, adding that he was extremely worried about how he would put food on the table now.
According to recent data released by the Crop Information Services Branch, 778,724 acres of farmland were affected by the flood, of which 14,592 acres were severely damaged. As a result, crop production losses currently stand at 16,491 tonnes, translating into financial losses across the province of over Rs 3,300 million.
Javed and other farmers, who grow maize, suffered losses amounting to Rs 368.09 million, according to the report. However, those who plant the dates suffered the most, with a financial loss of Rs 2,754.05 million; followed by market gardeners losing Rs 145.28 million; pulses at Rs 50.86 million; tobacco farmers in Swabi and Charsadda recording losses of Rs 22.70 million; rice farmers at Rs 11.81 million; and those who maintain orchards suffered financial losses of Rs 5.52 million.
Sajid Khan, deputy director of the Agricultural Research Centre, commenting on the monetary losses, said the huge devastation was a long-term concern as land affected by the floods would take many years to re-grow crops.
Professor Dr Ihsan Qazi, from the Department of Food Science and Technology, Peshawar University of Agriculture, shares Sajid's concerns. "Food insecurity in the province will further increase and people will be in dire straits," he predicted. Dr. Ihsan informed that pregnant women and children would be the most affected by the difficult situation awaiting KP. "We will start to see an increase in stunting, as well as an increase in anemia and other illnesses in the near future."
However, Dr Ihsan believes the crop loss could have been avoided. "When the metrology department warned of flooding, more could have been done to secure food and crops," the professor said. When asked to elaborate on what measures could have been taken, Dr Ihsan replied that there was a shortage of cold storage in the province and it might be good to start with some. build more. "In circumstances such as floods or other natural disasters, we should have government-run cold stores where farmers can secure their crops." The professor believes that measures such as cold stores are even more relevant given the threat of climate change. "These natural disasters will only increase in the future as we, the country, are quite vulnerable to the effects of climate change. Therefore, the provincial government and the agriculture department should work urgently to take precautionary measures," Dr Ihsan suggested in an interview with The Express Tribune.
Published in The Express Tribune, August 22n/a2022.