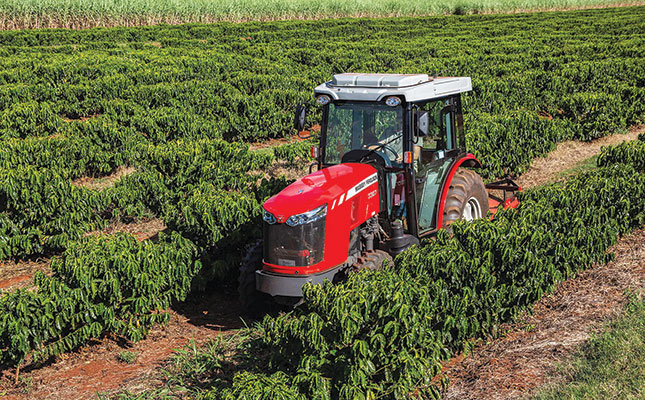 Massey Ferguson launches new orchard tractor
With growing interest in orchard production, Massey Ferguson launched the MF 3300 series of narrow-width tractors in South Africa.
In response to increased interest in producing high-value crops such as avocados and nuts, Massey Ferguson launched its MF 3300 narrow-width tractor for orchard and vineyard production in South Africa in November 2021.
AGCO, Massey Ferguson's distributor in South Africa, said in a statement that this model was based on the popular, robust and reliable MF 400 Xtra Narrow tractor models from Brazil.
While the front axle, transmission and rear linkage are almost identical to those of the MF 435 Xtra and MF 440 Xtra, the MF 3300 features an all-new AGCO 3.3-litre three-cylinder engine, as opposed to the traditional third. -motor manufactured in part.
"This is a 100% AGCO product, with the added benefit of incorporating the latest AGCO Power engine technology," says Ryan Clark, Product Marketing Manager for Low-Horsepower Tractors Africa at AGCO.
Clark adds that what makes this tractor stand out is that it meets Stage 3 emissions standards and has a common rail with an electronic control unit (ECU) to monitor all parameters. fuel and air.
The engine memory feature allows a preset engine speed to be engaged, which means more consistent application and less wear on the transmission, linkage and implements, at the touch of a button.
"There are a lot of advantages associated with ECU technology as opposed to traditional lever or cable-operated throttles," Clark says. The ECU is accompanied by a mini on-board computer, providing hourly fuel consumption readings. This ensures greater efficiency in the field.
Features
The MF 3300 Series can be purchased as an open station or cab vehicle. The latter has been designed for maximum visibility and safety and offers easy to access and simple to use controls. Air conditioning is standard and incoming air passes through a cabin air filter.
The new series is also ideal for horticultural applications. "The front track widths can be adjusted from 1.19m to 1.31m and the rear track widths can be adjusted between 0.96m and 1.3m, providing overall widths from 1.27m to 1.40m. The overall height is 1.6m on the platform versions and 2.35m on the cabin version," the statement said.
The tractors also feature an extra-long wheelbase, a sturdy frame and a reinforced drawbar. The attachments are powered by an independent power take-off (IPTO), hydraulic linkage system capable of lifting 2,100 kg and two remote hydraulic valves offering 59ℓ/minute oil flow or 210 bar pressure.
"If you were a producer of oranges or pecans, this would be the tractor that does everything and goes all over the farm. He's the main breadwinner," says Clark.
Advanced
The extra-long wheelbase also makes the tractor an ideal candidate for advanced farming techniques such as overtaking. When it comes to orchard rows, a tractor traditionally starts at the top left corner and moves down.
When he reaches the end of a row or a headland, he is obliged to make a three-point or lock turn. This puts additional strain on the machine and implement, not to mention the application rate, as the operator must slow down, shift gears and perhaps even reverse to properly execute the turn.
The jump pass is a technique by which instead of taking line by line, the middle line is deliberately skipped. Initially skipping the middle row and then returning the same way means that only one three-point or full-lock turn is needed at the end of the field.
The theory is that the machine not only maintains a constant speed throughout, but there is less wear and less time wasted turning.
"This type of technique has been quite common in the grain industry since the advent of self-guided tractors, but has yet to gain similar traction in the orchard sector," Clark says.
Visit masseyferguson.co.za.