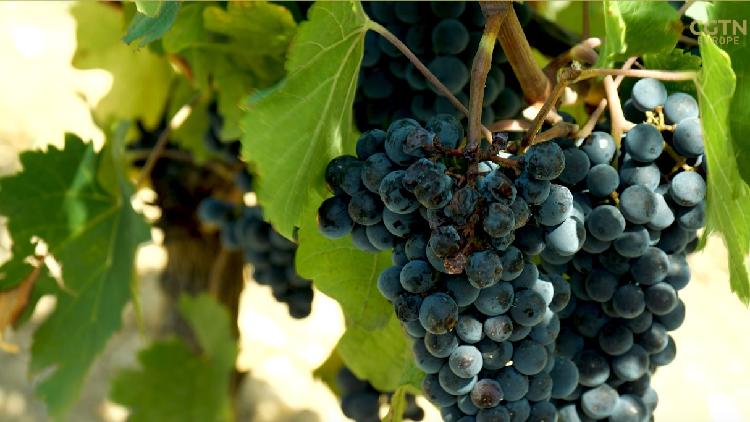 French vineyards suffer from low yield due to extreme heat
The vineyards of southern France have been hard hit this year, a direct consequence of the scorching summer caused by climate change.
The situation has left grape growers with a number of tough choices, with many having to harvest their crops weeks earlier than in previous years.
READ MORE
The Life and Times of Queen Elizabeth II
World leaders pay tribute to the British monarch
Mid-Autumn Festival Poetry
"Farmers are forced to adapt not only to climate change, but also to fungi, high temperatures, drought and frost," explained Julien Zuanet, who runs the Château de l'Hôpital vineyard in the prestigious Bordeaux wine region.
Zuanet is adamant he will not change the product.
"Our biggest enemy is the fungus"
Farmers across the region face the urgent challenge of maintaining these world famous vineyards in the face of climate change, as the roots of the vines struggle to find water, while the sun scorches the fruit.
"In bio-farming, our biggest enemy is fungus, especially when the humidity is high," Zuanet said.
"Usually, we cut the leaves around the grapes to let them breathe, but when it's dry, like this year, we keep the leaves to protect the grapes from the sun.
Further south, in Fitou, near the border with Spain, Jean-Marie Fabre, president of the Association of Independent Winegrowers of France, agreed that winemakers needed to make urgent changes to stay viable.
Like many others in the region, he has already seen a substantial drop in grape yields – down 10% this year and 25% last year.
"The future of prestige wines from this region remains unknown," Fabre said.
"I don't know if this variety can survive 5, 10 or 15 more years under these conditions with our current practices. What I do know is that by adapting our cultivation methods and improving our use of water, this vineyard can continue to produce quality grapes even if the temperatures rise further."
Improved quality despite declining quantity
Although the hot summer has caused a drop in the quantity of harvested grapes, their quality is actually very good. But winemakers remain concerned that if summer temperatures continue to rise, not only will yield drop, but quality will as well.
"If the plant suffers, it will feed the grapes less, which will lead to lower quality and less flavorful grapes," Fabre pointed out.
"We can counter this by controlling how we plant grass, which can retain water…using different types of soil…and creating more shade over the grapes at certain times of the year. year, so they can give water back to the plant when it needs it," he added.
So, given the current challenges, could a solution to France's wine problems be found abroad? Grapes grown in countries like Israel, Morocco, Algeria and Greece can survive extreme weather conditions.
"We have to research them to see how they can be planted in the south of France today," says Fabre.
It seems certain that changes will have to be made to give this rich element of French culture a fighting chance in our ever-changing world.