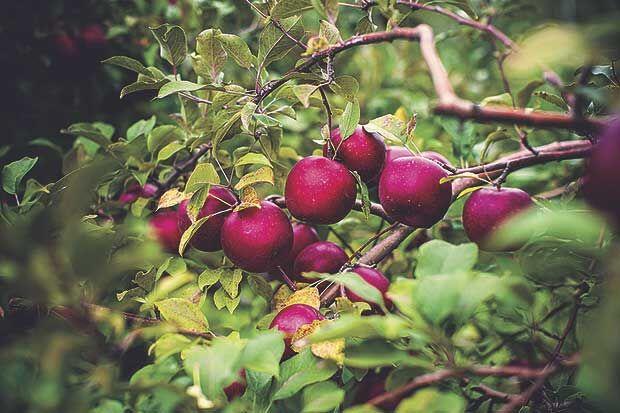 Fall: Celebrate the season by visiting the region's apple orchards | New
[ad_1]
The mornings have a chill in the air that signals the fall season is upon us. What better way to celebrate the new season than by visiting local apple orchards?
There are several in the area that offer different varieties of apples, fruits and other products, as well as entertainment.
Pine Tree Apple Orchard is located near Pine Tree Lake in Dellwood. The first apple trees were planted in 1904. Art and Dickey Jacobson purchased the orchard in 1958. The orchard is located at 450 Apple Orchard Road.
The large orchard spans over 300 acres. In 1963, the Jacobsons purchased an additional orchard in Preston. The orchard currently cultivates 25 varieties of apples. A full list can be found on the website at pinetreeappleorchard.com.
The apple season, which begins in mid-August, lasts until March.
Starting in September, Pine Tree Apple Orchard offers a variety of entertainment, including pony rides, wagon rides, a corn maze, and pumpkin picking. In addition to apples, there are baked goods, fresh cider, gifts and more.
The auction house building is open from 10 am to 5 pm seven days a week. Outdoor activities have different hours. See pinetreeappleorchard.com for more information.
Applecrest Orchards is located at 7306 24th Ave. N. in Hugo, just on the border of the Lino lakes. It has been around since 1985 and has had several different owners. Current owners Chris and Shelli Ellis purchased the orchard in November 2019. The 10 1/2 acre property has approximately 1,400 trees surrounding an 1884 farm.
From August, the orchard is open from 2 p.m. to 6 p.m. Wednesday to Friday and from 10 a.m. to 6 p.m. on weekends, or by appointment. Food trucks are often on site every weekend during the fall season.
Apples and certain other products and products from the Applecrest orchards are also sold at farmers' markets in the region. For more information, visit www.applecrestorchards.com.
The Aamodt Apple Farm is located at 6428 Manning Ave. N. in Stillwater. Founded by Thor and Lucille Aamodt, it has been a family business since 1948. The orchard is open from 11 am to 5.30 pm Monday to Thursday and 10.30 am to 6 pm Saturday and Sunday.
Aamodt's offers pick-your-own apples for seasonal apples. They also have a large barn where visitors can buy homemade products as well as gifts.
Traditionally, Aamdot offers a variety of fun outdoor family activities, but some activities may be suspended due to COVID-19. It is best to check the website, aadmodtsapplefarm.com, before your visit.
Aamodt's Apple Farm also offers its own Thor's Hard Cider, named after its founder. The alcoholic drink is made from freshly squeezed, full-strength, locally grown apples with no preservatives. The whole process takes place in the orchard and the apples are all grown, harvested, pressed and brewed at Apple Farm in Aamodt.
The drink is available for purchase by the glass or bottled in several different varieties. It's also sold at Velveteen, Cozzie's Tavern and Grill, Mad Capper, and Whitey's Bar.
Aamodt's is located next to the vineyards of Sainte-Croix, so orchard patrons can also stroll through the vineyards and enjoy a wine tasting.
Sunnybrook Apple Orchard is a newer orchard founded in 2016. The orchard owners harvested their first harvest of apples in 2018 and the orchard plans to expand over time. It is located at 9085 Jeffrey Boulevard North in Stillwater.
The orchard is open from 12 p.m. to 6 p.m. on Wednesdays and Thursdays, from 10 a.m. to 6 p.m. on Saturdays and from 10 a.m. to 4 p.m. on Sundays.
Honeycrsip, SweeTango and Zestar apples are currently in stock.
The orchard also offers pumpkins, squash and squash. Customers also have the option of ordering online for orchard pickup. Visit the website to learn more.
Victoria Valley Orchard is located at 4304 Victoria Street N. in Shoreview. It has served the Twin Cities region with fresh, local produce since 1966, when it was opened by Don and Molly Papenheim.
The orchard offers 21 varieties of apples, as well as unpasteurized honey, pumpkins, frozen apple pies and frozen apple chips.
Although the orchard does not offer U-pick apples, guests are welcome to stroll through the rows and rows of apple trees.
1 1/2 cups all-purpose flour 3 teaspoons baking powder
1/2 teaspoon of salt 3 Granulated sugar
1/4 teaspoon nutmeg 1/3 teaspoon baking soda
1/4 teaspoon vanilla 1 cup milk
1 cup of apples, peeled and grated
1. Combine flour, baking powder, salt, sugar and nutmeg in a mixing bowl.
2. In a separate bowl, combine baking soda, egg, butter, vanilla and milk.
3. Combine the two mixtures, stirring only until well blended. Stir in the grated apple.
4. Cook on a hot, lightly greased griddle.
5. When the dough is full of holes, brown it on the other side. Turn the pancakes only once during cooking.
The recipe makes seven 8-inch pancakes.
1 1/4 pounds red apples (about four Honeycrisp, Haralson or Regent) unpeeled, seeded and quartered
1 tsp of fresh lemon juice
Place the apples, water and lemon juice in a saucepan. Cover and cook over medium heat, stirring occasionally, until apples are tender (about 15 to 20 minutes). Pass the apple mixture through a vegetable mill fitted with a medium disc. Applesauce can be stored, covered and refrigerated, for up to a week.
A vegetable mill separates the apples from their peels but allows the pinkish color of the skins to remain.
[ad_2]