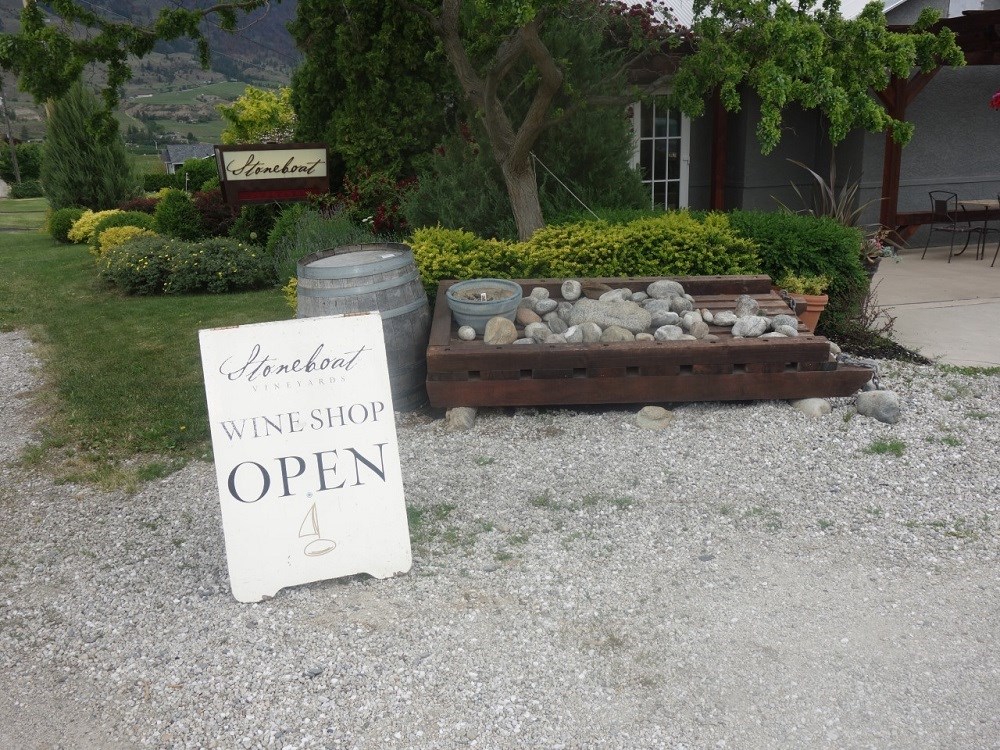 Column: Proud Stoneboat Vineyards Legacy Continues With New Owners
Today I'm reviewing a wine that brings back fond memories, the Stoneboat Vineyards 2019 Pinot Noir ($27.99; 91 points). I first encountered Stoneboat Vineyards when I attended a wine festival in BC and discovered their pinot gris and pinot noir. I was amazed at the minerality of these wines. As if the stones were an integral part of the character of the wines! I was impressed.
And then at the Vancouver International Wine Festival, there was a lunch where I was randomly seated next to Lanny and Julie, the owners of Stoneboat Vineyards.
I was delighted to be able to talk to the people who founded this little Oliver winery whose wines I really enjoyed. What also attracted me to this winery was the fact that my wife's maiden name was Martyniuk! My connection to this cellar has become even stronger.
And then it's time to visit Stoneboat, a small family-run artisan winery that treats its customers like they're family. Repeat visits would result in the same warm, friendly and hospitable experience! It was always a must see destination in the South Okanagan and it never disappointed.
The name Stoneboat refers to the flat sled the original owners used to haul heavy river rocks from the vineyards before cultivating them. It represents the qualities dear to the Martiniuk family: hard work, tradition and perseverance.
Stones are important to Stoneboat grapes and wines. The pinots flourish in the rocky limestone soils of the three vineyards. These soils are found at the location of Stoneboat in the Black Sage Bench but also in Burgundy, the home of Pinot Noir in France. The stones retain the heat of the day and return it to the vines at night. This is crucial during the fall in the desert, which has hot days but cool nights. On the Stoneboat label appears the name, "Pinot House" because they specialize in Pinot Noir, Pinot Gris and Pinotage, which is a cross of Pinot Noir and Cinsault.
Hand selected from their Home Estate and Orchard Grove Vineyards, the Stoneboat Pinot Noir is a blend of several clones and a true expression of their soils on the Black Sage Gravelbar. After fermentation of the whole berries, it was aged in French oak barrels (20% new, 80% aged) for 14 months.
This red has a medium garnet color indicating an elegant wine with a lighter style. But a whiff of smell proved that this red had a lot of character, thanks in part to its 13.6% alcohol! A wonderful bouquet of cranberry, strawberry and cola as well as toasty oak and earth burst from the glass.
These characteristics were also present on the palate which, due to the limited use of new French oak, remained balanced with fruit, minerality and refreshing acidity. I was impressed as I expected to be.
Stoneboat Pinot Noir is versatile with many dishes, such as with tuna, roast chicken or duck or rack of lamb.
Last June, a new chapter in Stoneboat's history was unveiled. The Verhoeff group of companies purchased Stoneboat Vineyards from Julie and Lanny Martiniuk. The business remains family owned and the Stoneboat Vineyards name is retained. Additionally, winery employees remain with new owners, including winemaker William (Bill) Adams and general manager Levi Gogolinski. Pascal Madevon, veteran industry consultant, will join the team.
Rudy Verhoeff, new owner of Stoneboat Vineyards announced: "Our intention is to continue [the Martiniuks'] exceptional work and to expand the brand's presence in the Okanagan and beyond.
The Verhoeff family is based in Fort Langley and has experience with businesses in the event and hospitality sectors, including the new District Wine Village with Trading Post and a new winery, Valley Commons.
Stoneboat wines are available at VQA stores in the winery.