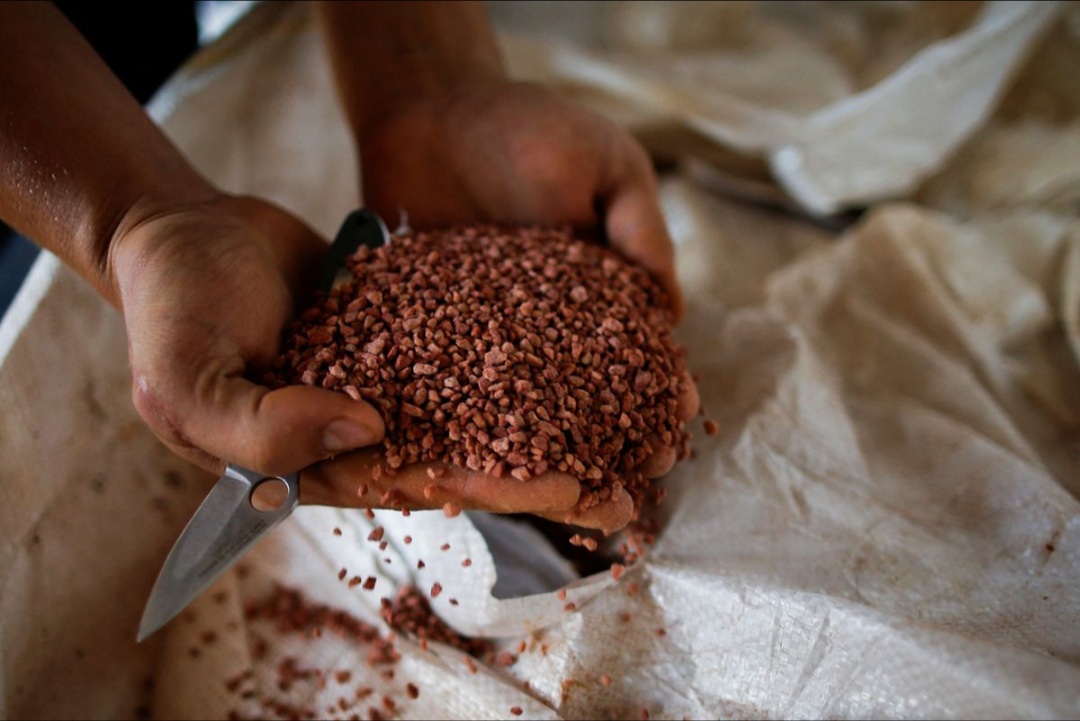 Chaka Uzondu: on poultry manure and the National Fertilizer Board
A farm worker shows fertilizer before spreading it in a soybean field, near Brasilia, Brazil February 15, 2022. Picture taken February 15, 2022. REUTERS/Adriano Machado
Poultry manure is promoted by representatives of the Ministry of Food (MoFA) and Cocobod. They encourage farmers to switch to poultry manure in the face of the scarcity and high cost of inorganic chemical fertilizers.
Then, in March of this year, the National Fertilizer Council (NFC) Board of Directors was inaugurated. Both are potentially positive developments. It is good that state actors encourage the use of poultry manure by farmers. It is well known that manures do what synthetic fertilizers cannot – build soil structure sustainably.
The production of organic fertilizers in Ghana is long overdue. This government has now established a National Fertilizer Council, suggesting, at a minimum, that there is a growing momentum for local fertilizer production.
But there is work to be done by active citizens, including farmers. The promotion of poultry manure and the inauguration of a Council also highlight important issues for critical discussion and action.
Does the recent promotion of poultry manure by different state actors signal a fundamental change from the promotion of synthetic fertilizer use by the Ministry of Food and Agriculture (MoFA)? Is there a growing awareness that for Ghana's agriculture to be not only "productive" in the reductionist sense of yield per hectare, but to be sustainable, especially in the context of climate change, there needs to be more emphasis on improving soil health? Manures and compost, not synthetic fertilizers, regardless of their "scientific" design or application, will always be better for soil structure and health.
If there is a nationwide move away from synthetic fertilizers, some may ask, "Is there enough manure? There are more important questions to ask, such as; other than manure, how can we improve soil health and fertility? And do farmers use important practices – for example green manures, nitrogen-fixing crops and the integration of crop cultivation with livestock – sufficiently intensively on farms, especially large-scale commercial farms? scale ?
With synthetic fertilizer prices rising, policymakers need alternatives and they want them now. Poultry manure can potentially contribute to soil health and fertility, but it is not enough.
Here is the Fertilizer Council and plans for a fertilizer production company. Questions need to be asked. Is the National Fertilizer Board designed to promote local production of organic fertilizers by Ghanaian companies? Are there real smallholder farmers on the Council's new board? Why is there among its board members a representative of YaraGhana, a subsidiary of Yara, the Norwegian multinational, which is one of the world's largest producers of synthetic fertilizers?
If the MoFA remains committed to promoting industrial agriculture, there will be no sustained commitment to the use of organic manure and fertilizers. The call for the use of manure will only be a measure for desperate times. Indeed, a representative of Yara and fertilizer importers sit on the council's board, suggesting that promoting local production of synthetic fertilizers is likely to be its primary focus. And surely, since Ghana is an oil producing society, many will see Ghana producing synthetic fertilizers as a good thing. Synthetic fertilizers are after all a by-product of fossil fuels, so producing them in Ghana might seem like a logical step in the right direction. But choosing this path requires forgetting that synthetic fertilizers are a major producer of greenhouse gases (GHGs) and therefore a major contributor to climate change.
The transformation of the agricultural sector is necessary. However, the transformation cannot be based on an agricultural system dependent on synthetic fertilizers. These cause too much land degradation and pollution. Ghana needs an agriculture and food system that provides nutritious food, creates quality jobs and has no (or at least minimal) negative impact on the environment.
In the face of chemical fertilizer shortages, here are four steps to take now: (1) provide substantial cash rewards to existing agroecological and organic farmers to help them increase production; (2) develop a farm-to-market transport support system to help farmers get food to markets at fair prices for farmers as well as minimize post-harvest losses and (3) support food-sharing schemes. organized by farmers and (4) establish an incentive program for farmers interested in transforming their farm through agroecology (with explicit criteria for practices such as the use of green manures). See, for example, a recent initiative by the UK government in response to rising global fertilizer prices.
These recommendations are not quick fixes. There is no shortcut. It's time to rethink our entire food system and start changing it so that we have adequate quality, nutritious food for all and that smallholder farmers thrive. It's time for food sovereignty.
*****
Chaka Uzondu (PhD) is a researcher and policy analyst. His writings cover topics ranging from agroecology, climate change, economic justice, food sovereignty, health, housing, ecology/political economy and water, sanitation and hygiene (WASH).