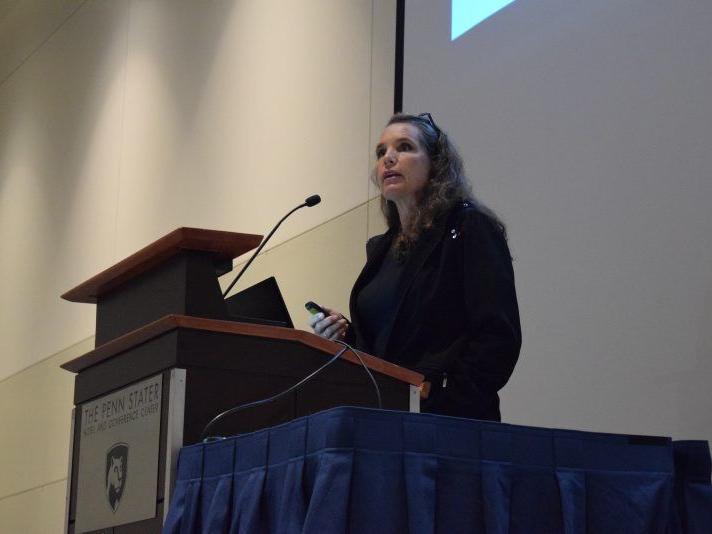 California defeat of Newcastle disease offers lessons to poultry industry | Main edition
[ad_1]
STATE COLLEGE, Pennsylvania – In the summer of 2020, as the United States struggled to understand COVID-19, California succeeded in ending a major outbreak of poultry disease.
Stopping the virulent Newcastle disease took two years and resulted in the deaths of 1.2 million birds. But the effort was successful thanks to a mix of public awareness and on-site disease response.
"We wanted to eradicate the disease. We didn't want to live with it, "said Annette Jones, California state veterinarian, who led the state's stamping-out effort.
Jones spoke at the Northeastern Avian Disease Conference Tuesday at the Penn Stater.
Newcastle disease was reported in 2018 in southern California. It is not clear where this virulent strain of Newcastle disease came from, but Jones said past experience suggests it could be contraband birds.
What made this outbreak particularly difficult was that it hit a large urban center – Los Angeles and surrounding counties.
This is an area where many people keep backyard flocks, often near other domestic pastoralists or even near poultry farms.
That's a lot of bird owners who could spread the disease but wouldn't hear about the risks through the poultry industry's established communication channels.
Indeed, while most of the birds that were slaughtered in the California outbreak came from 10 commercial farms, most of the locals that were depopulated – over 2,000 – were backyard farms. (The USDA also counted two infected premises in Utah and Arizona.)
In light of these challenges, Jones has devoted a great deal of resources to public education.
Staff visited residents door to door and provided information at grocery stores, fairs, markets and churches. Jones also tried to communicate with local governments so they weren't surprised by new restrictions.
"We really have to be able to reach people so that they can understand why they are doing what they are doing and help out," Jones said.
During an outbreak in Newcastle 20 years earlier, the California Department of Food and Agriculture was able to raise awareness of the disease through frequent media interviews.
But this time, in the relentless news cycle of the Trump era, the mainstream press paid little attention to sick chickens.
"Much more interesting things were happening nationally," Jones said.
So his department paid for public service announcements and took to social media.
Jones said his agency has been slow to improve its online game. She eventually hired a PR firm, and social platforms ended up being an important tool for messaging.
At the same time, the state was working to find and destroy the herds that had been infected with Newcastle disease.
Jones didn't want to send testing staff from farm to farm for fear of spreading the disease, so the agriculture department shipped test kits to farmers and asked them to return the samples.
The agency also obtained prior approval from farms to continue moving the birds if an outbreak occurred nearby.
Compared to working with commercial farms, just finding backyard flocks has proven to be a tricky task.
Many breeding pens are not visible from the road, so Jones staff looked at aerial photographs on Google Maps. The staff also used advanced mapping techniques to select the locations they should focus on.
Data from genetic testing shaped the response in key ways. This showed, on the one hand, that the current Newcastle strain was a new introduction, not a holdover from the outbreak 20 years earlier.
This finding reinforced Jones' arguments for eradicating the disease. If Newcastle had never left, calls for a less intensive plan to simply deal with the disease might have had more influence.
Genetic analysis also showed that the improved biosecurity practices implemented by the farms were effective in containing the disease.
When the farms were infected, Jones found the disease had spread from neighboring backyard flocks rather than feed or egg trucks – routes of transmission that had been blamed during from the previous epidemic.
There were some quintessential Californian elements in the response to the disease. Staff only used carbon dioxide to depopulate the homes because Jones feared other methods would be attacked such as inhumane and swift court fights that could stop the rapid response to the disease.
Still, Jones sees lessons that states could apply to any animal disease incident.
His main suggestion is to incorporate triggers into disease response plans. Without designated thresholds for when action should be taken, staff members may feel uncomfortable taking action and policy may override the facts on the ground.
"What I've seen over and over again – I can't think of any incident, in fact, where it hasn't happened – (is) people are in denial. They don't mean 'this is bad,' "Jones said.
This reluctance emerged during the Newcastle outbreak, even with well-defined triggers. Frictions with the Trump administration over unrelated issues have prevented California from seeking help from the federal government, Jones said.
Jones also said disease control agencies should start hiring additional staff immediately if they think the response will take longer than a month. She eventually added more than 200 employees through 13 career fairs.
"Your staff is going to run out and it will take years for them to recover," Jones said.
She will have plenty of time to focus on other improvements.
The USDA and the State of California have commissioned a report on their response to the Newcastle outbreak. The draft report is 165 pages long and contains a similar number of recommendations – and it is for a successful response to the disease.
Meanwhile, Jones said the state is preparing for any future introduction of Newcastle disease.
California is working with its extension service to promote bird vaccination. The program includes teaching backyard herd owners to administer vaccines correctly.
[ad_2]