Apple picking near Louisville – Apple Orchards
Apple picking near Louisville! Here are some places you can go to pick your own apples.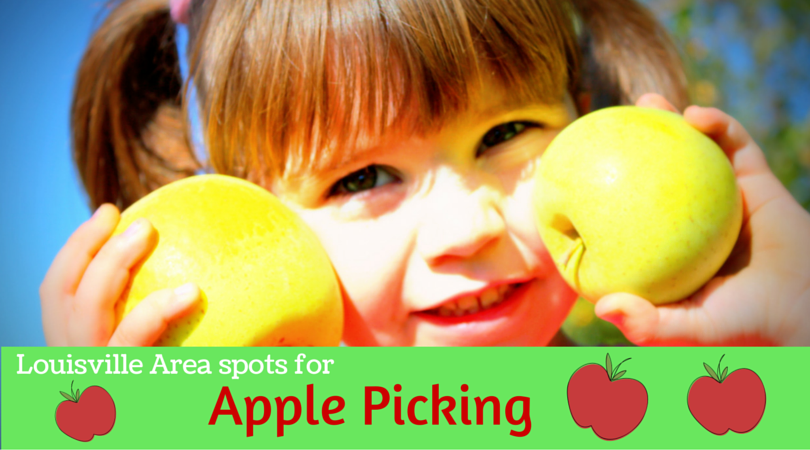 Apple picking is so much fun. Bring bug spray! And, prepare your recipes because you will surely go home with plenty.
Apple picking near Louisville and even in town takes place in late summer. It's always a good idea to check before you go to find out the status of their U-pick. Venues change their hours, don't open based on weather conditions (or pandemics!) or seasonal changes in operations. We have your updated information for 2022 below!
We like to pick apples together. Whether it's searching for the perfect apples or just spending time together outdoors, it's something we always enjoy. And, we manage to figure out what to do with all the apples we bring home because we always pick too many!
Hidden Hollow Orchard (opening day August 20, 2022!!) right here in Louisville is also a good place to visit. check them out website for updates – they keep their website up to date. So far they say the apples will be ready end of August, that's exciting. Last year there were no apples due to a late spring frost. Thank you mother nature for bringing us apples in Hidden Hollow Orchard in 2021. If you haven't been here, GO. When my kids were younger (as pictured above) they thought this place was an adventure in wonderland. Back in the woods, the animals, totally non-commercial, a scavenger hunt for the best apples.
This orchard is really rustic and when you drive around it feels like an intrusion. But you are not! Definitely bring bug spray. Having cash on hand and bringing your own bags is a good idea. We went and just picked and paid with no one there to receive payment, it's really laid back. They have horses in the back, just walk further down the gravel road. Bring carrots. It's just such a gem of a place.
Huber's Orchard & Winery offers a wide variety of apple pickings and tons of fun! They also have the Family Farm Park open May 1 through October 31 and cost $6 per person.
Be sure to call them before you go to check what they have that day for pick-your-own. It's always changing! They typically have apples available for pick-your-own in mid-August, then different varieties become available. So you can visit once then go back a few weeks later and get different types of apples. They also have all the apples available at their farmers market. Remember they now charge $4 per person to drive the wagon to the pick up area.
Gallrein Farms is just east of Shelby County and they have seasonal fruit to pick. Usually you check their farm schedule and call ahead to see if the apples are ready (usually now through November)! They have a nice petting zoo and events too. People also love their market for plants and vegetables. A great option for apple picking near Louisville, a great day on the farm for the kids.
Eckerts Orchards is a short drive from I-64 in Versailles. Here is their calendar for crops so that you plan accordingly. They offer a variety of fruits and vegetables as well as all kinds of fun events and festivals. Definitely hit the link we provided above to check for their crop updates, they are really good at telling you what is available and when.

Mulberry Orchard in Shelby County is a great place to visit with the family! We love the drive there, we opt to go through La Grange for the scenic route. Don't pack lunch, they have delicious food and food available. I love the barbecue sandwich and the apple salad. My kids love their ice cream and other peach treats. You can visit their farm shop for the apples they have harvested, they have many varieties – their website estimates when they are all available. They also have a playground on the farm (for a fee), animals, and wagon rides in the fall.
Here's another great article from Oldham Family Fun that has even more ideas and details, including farmer's markets to get some local apples!
And what to do with all those picking apples near Louisville? Turn them into apple crisp, apple butter, apple pie, applesauce, dry apples, make caramel apples then decorate them with dried fruits and candies to make them look like pumpkins.
One of my favorite recipe sites is allrecipes.com and they have a great slow cooker apple butter recipe that can also be frozen to use later. The Hidden Hollow Orchard website also offers several apple recipes. So many options you might want to try both orchards so you can enjoy the apple treats.
Looking for more food-related family fun? Click here.