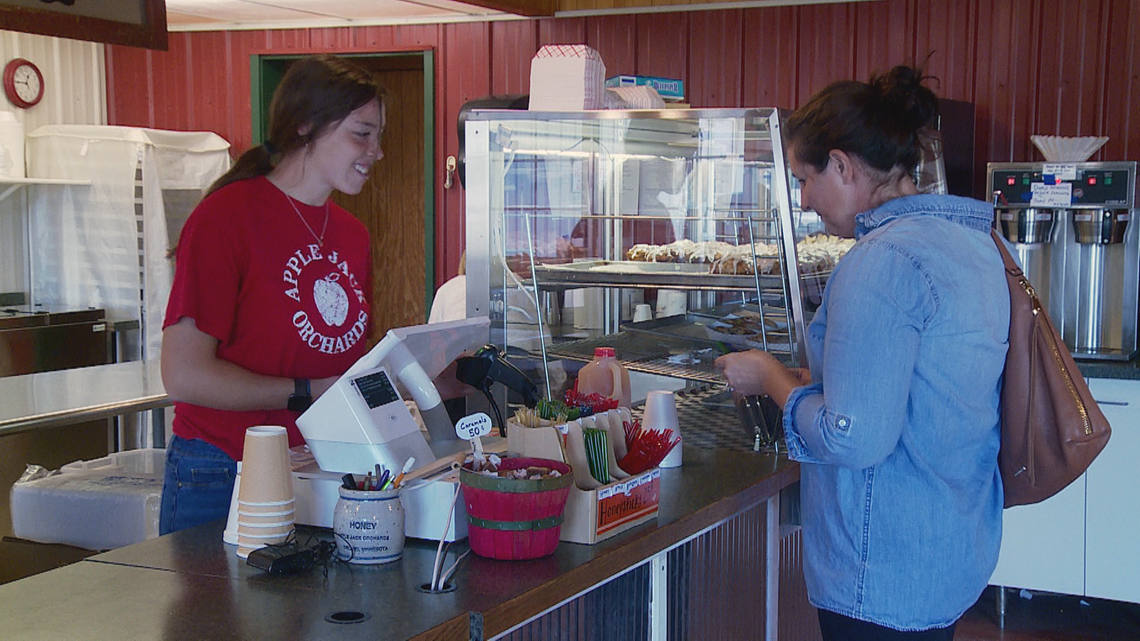 Apple orchards facing a labor shortage
The national labor shortage is also having an impact on Minnesota's apple orchards. An orchard in Delano loses around 50 employees.
DELANO, Minnesota – It's been a busy season so far at Apple Jack Orchards in Delano.
Owner Mary Kahler said last season she had perhaps half as many customers due to the pandemic.
"Everyone has time to go out to the orchard. It's wonderful, but we don't have any employees," Kahler said.
In the past, the orchard has always had extra people available that they can call at the last minute. This year, Kahler said they could use 50 more employees.
Wages vary, but a teenager who is just starting out earns around $ 13 an hour and it can quickly climb to $ 16 or $ 17.
"No matter what we would offer in terms of wages, which of course we keep raising our wages all the time, people don't even apply," Kahler said.
Kahler said that means their cow train, which usually runs on weekends, isn't always available because no one is available to drive it. The same goes for their apple cannon.
RELATED: 'Bus Driver Crisis': Union Leaders and Bus Drivers Speak Out on Conditions Leading to Nationwide Shortage
"People's aunts and uncles and one of my manager's grandfathers are riding the cows. Out of the goodness of people's hearts, they help," she said.
The changes are also impacted by COVID-19.
"Kids are wonderful that can show up, but when their school says, 'Oh, everyone's going to quarantine this long because of COVID,' they're good kids so they call and say, 'We can't. not come to work either. Even though none of them have COVID, they can't come to work. So it's a constant race, "said Kahler.
RELATED: KARE in the Air: Afton Apple
Employee Marlis Doboszenski was making apples for pies and crispies Tuesday afternoon. She said that a job for five or six people is now being done by two.
"It's 12:30 pm and I'm still working on it where it should have been done yesterday," Doboszenski said.
Besides a labor shortage, they face supply chain issues.
"All the wrappers… can't get it. We can't get our soft drink and our water, so I run to Costco twice a week," Kahler said.
Some orchards are also facing apple shortages due to the drought.
RELATED: Minnesota Leaves May Not Be As Bright This Year, But The Best Fall Foliage May Be Right Next
The KTTC reported that Northwoods Apple Orchard in Oronoco only makes customers buy prepackaged apples due to the shortage.
"The amount of apples just isn't there, and so for people to pick them for themselves, there's just nothing there," Tom Eckdahl of Northwoods Orchard told KTTC.
Kahler said Apple Jack Orchards was able to avoid apple shortages with its irrigation system.
Afton Apple Orchard in Hastings was also able to irrigate. They have smaller apples but still a decent harvest. The orchard lost about ten employees and they had to delay the opening of their corn maze because of it.
Applewood Orchard in Lakeville also told KARE 11 that they are currently experiencing a staff shortage.
Kahler said those interested in a job at Apple Jack Orchards can contact them through their website or Facebook.